Shijiazhuang Hetaiheng Hospital
---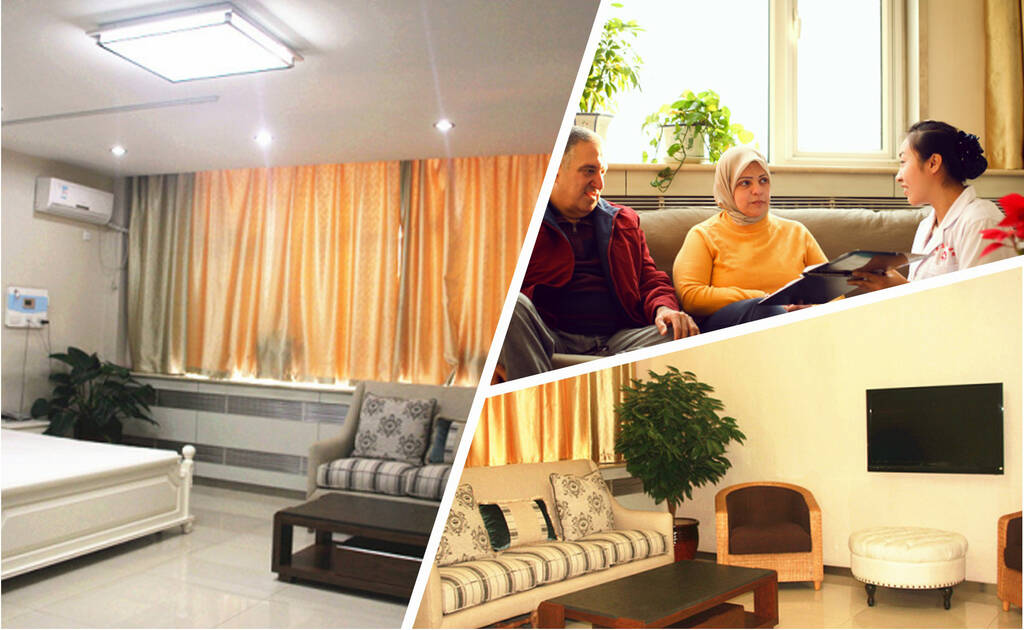 Part One Basic Information
Shijiazhuang Hetaiheng Hospital is a second-class traditional Chinese medical hospital approved by Health and Family Planning Commission of Shijiazhuang DistrictIt is an international hospital including clinic, scientific research and prevention. The hospital inherits the essence of traditional Chinese medicine (TCM) and mainly treats high-end demand patients. The building area is over 40,000 square meters.
In order to cater to different patients' need, wards include villa room, suite deluxe, junior suite and high standard single room. The ward is equipped with all living facilities. The ward environment is elegant, comfortable and quiet.
Part Two Medical Service Scope
1. Internal Medicine Department: cardiovascular medicine (including electrocardiogram diagnosis),Nephrology Department
2. TCM Department
3. Rehabilitation Department
4. Laboratory Department
5. Diagnostic Radiology Department
6. Ultrasound Diagnosis Department
7. Dialysis Department
8. Pharmacy (Chinese and western pharmacies)
Part Three Three Great Advantages of Our Hospital
1. International Consultation Center
Experts of International Consultation Center are professor Zhang Daning, master of Chinese medicine; professor Yang Hongtao, vice president of Kidney Branch of World Federation of Chinese Medicine Societies; Cheng Xiaohong, the executive director of the World Federation of Traditional Chinese Medicine Nephropathy Professions Council; Liu Xusheng, member of the standing committee of the World Federation of Chinese Medicine; professor Deng Yueyi, standing committee and secretary of the world federation of Chinese medicine; professor Wang Yi, executive director of the World Federation of Traditional Chinese Medicine Nephropathy Professions Councils; World Federation of Acupuncture-Moxibustion Societies, and many other world-class famous experts and over 20 national-level experts like professor Zhang Youkang, Zheng Falei, Liu Guangzhen and Sun Wei, etc.
2.Special Treatment
The most distinctive characteristic of kidney disease treatment is the innovative creation of a set of treatment methods for curing kidney disease without injections and medications, namely by using Traditional Chinese medicine to regulate expression of cytokines to cleanse toxins in body, improve the microenvironment of cell survival and recover the self-healing function of cells so as to treat various chronic diseases.
This set of treatment methods can be summarized in three sentences: no harm to kidneys, fast response and no relapse.
Specific treatment measures can be summarized as the following three points.
① Edible Chinese herbal ingredients are adopted rather than simply medicine, avoiding the toxic side effects.
②Chinese medicine external treatment is mainly used to treat various chronic diseases, avoiding all kinds of toxic side effects of oral drugs.
③Unique medicine is used to specific meridian points so that it can reach focus quickly, playing the role of targeted therapy.
3. High-standard medical service
①Top Chinese and western medicine experts gather here to make personalized precise treatment plan.
②Top Chinese and western medicine experts gather here to make personalized precise treatment plan.
③Luxurious clubhouse type detached villa ward is equipped. (about 4,000 square meter)
④The intelligent service is realized in the whole treatment process of patients.
⑤Each foreign patient is equipped one professional translator, ensuring the accessible communication of patients in treatment and life.
Part Four Main Department Introduction
1. Traditional Chinese Medicine Department
In TCM department, more than 10 kinds of treatments, such as Foot bath, Inunction Therapy, Medicated Bath, Acupuncture and Moxibustion, Du-Moxibustion, Steam Therapy, Enema Therapy and distal-proximal point association are carried out to treat various chronic kidney disease precisely.
2.Laboratory Department
More than 300 kinds of biochemical detection can be done in Laboratory Department where is equipped with roche cobas6000 automatic biochemical analyzer, sysmex CA-1300 blood coagulation analyzer, sysmex XN-1000 blood cell analyzer, sysmex UF-500 fully automatic visible component analyzer and so on.
3.Blood Purification Center
The blood purification center is equipped with various blood purification devices. Blood purification technics like hemodialysis, hemofiltration, hemoperfusion, bedside blood filter, plasma exchange and immune adsorption which can effectively eliminate large, medium and small molecule toxins, delay illness progression, reduce the risky of complications and improve patients' life quality all are available here.
4.Imaging Department (Radiodiagnosis Department, Ultrasound Department)
Our Imaging Department is filmless, networked, and also the diagnosis is information-based because of its powerful images storage function and transfer system. This can provide better service for patients.
5.Chinese Medicine Pharmacy
The configuration of our Chinese Medicine Pharmacy is complete and also this department emphasizes scientific management, responsibility of every post, institutionalization of work, normalization of operation, which ensure patients' medication safety.
6. Pharmacy
Pharmacy has a complete and effective drug procurement and supply process and perfect drug supply system. With scientific, efficient and standardized management, pharmacy guarantees the medication security for inpatients.
Part Five International Development Status
Since its establishment, Shijiazhuang Hetaiheng Hospital has provided medical services to foreign patients from 148 countries.
The hospital has 52 counseling centers in 32 countries, which can satisfy the foreign patients to go abroad for medical treatment.
It has also been maintaining friendly relations with ambassadors from 18 countries in Middle East, including Oman, Bahrain, Sudan, Saudi Arabia and Palestine.
The hospital carries out "One Belt And One Road" on its own initiative, and has already carried out nearly 20 Return Visit in countries along the routes, including Oman, Bahrain, Bangladesh, India, UAE, Nigeria, Pakistan, Sudan, Russia, Philippines, Malaysia, Singapore, which helped Shijiazhuang Hetaiheng Hospital not only spread the excellent culture of Chinese Medicine also implemented close and practical cooperation with some countries' ministry of health, authoritative medical institutions and Chinese embassies.
Part Six Development Goals
Conquer more chronic and complicated kidney diseases and build a world-authoritative hospital of Traditional Chinese Medicine